Our Head Coach, Dave Jackson, has coached many Thai Boxing and Kick Boxing Champions and has worked with some of the top athletes in the World. With a relaxed, patient and technical teaching method, we guaranteed to bring out the best in you whether you wish to train for fitness, self defence or to compete at the highest level. He also has an excellent grasp of how Thai Boxing fits into the fast growing sport of Mixed Martial Arts and featured as a winning team coach in season 9 of the UFC`s popular series The Ultimate Fighter.
Muay Thai or Thai Boxing is the preferred stand up art for most fighters that compete in arenas such as the UFC or Bellator. We have had numerous UFC / Bellator fighters that have enhanced their skills by training their Thai Boxing and Striking here.
2 different programs are used to monitor progress. Students may follow the traditional route of competing in amateur then professional bouts where they will compete with students from other gyms or, those that wish to monitor development outside of the ring or cage, may opt to follow our coloured grading system. This is similar in structure to that of other martial arts such as Brazilian Jiu Jitsu, where students are tested at regular intervals all the way through to instructor level which is the equivalent to Black Belts in these arts.
All Junior Classes are conducted using safe training practices and without head contact. Our instructors are all fully qualified and DBS checked to ensure that your children are being taught in the safest possible learning environment.
Hand wrapping techniques
All the punching styles
How to make punches faster, heavier and sharper
Puncher's footwork to counter the elbow, knee, kick and punch
How to train the punch on the heavy bag, focus mitts and pads
How to practice light sparring without injury
How to block, parry, slip and counter the punch
Dave with UFC Superstar Rampage Jackson
Rampage Jackson's flying elbow
How to make elbows faster, heavier and sharper
How to use pads and focus mitts to train the elbows
Elbows used in conjunction with footwork to counter the elbow, knee, kick and punch
How to train the elbow on the heavy bag, focus mitts and pads
How to practice light elbow sparring without injury
Developing a solid foundation for all the Muay Thai kicking techniques including all the different kinds of roundhouse, front kicks, back kicks and spinning kicks
Kick in conjunction with footwork to defend against the punch, knee, elbow and kick
How to defend against the kick
How to counter the kick, how to train the kick on the heavy bag, focus mitts and pads
How to practice light sparring without getting hurt
Artur demonstrates correct kicking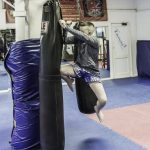 How to practice light knee sparring without injury
Proper form for the long, round and side knees
Proper footwork for using the knee
Knees used in conjunction with footwork to counter the elbow, knee, kick and punch
How to counter the knee
How to defend against the knee
How to train the knees on the heavy bag, focus mitts and pads
Any equipment you need to start off with is provided by us
If you want your own we can supply you with all you need
For more info on equipment and prices call 07833 710990
Private lessons allow you to focus and personalise your goals
Learn one on one with an instructor or in a small group
Allows you to train around your hectic schedule
Learn special techniques under direct supervision
Lessons can be made at your convenience and as often as you like
Personal lessons can be with Dave or any of our fully qualified coaches
Take your skills to the next level with extra tuition